September 14th, 2018 11:42 am | By Content Uploader | Posted In Business News, Credit, Credit Card Tips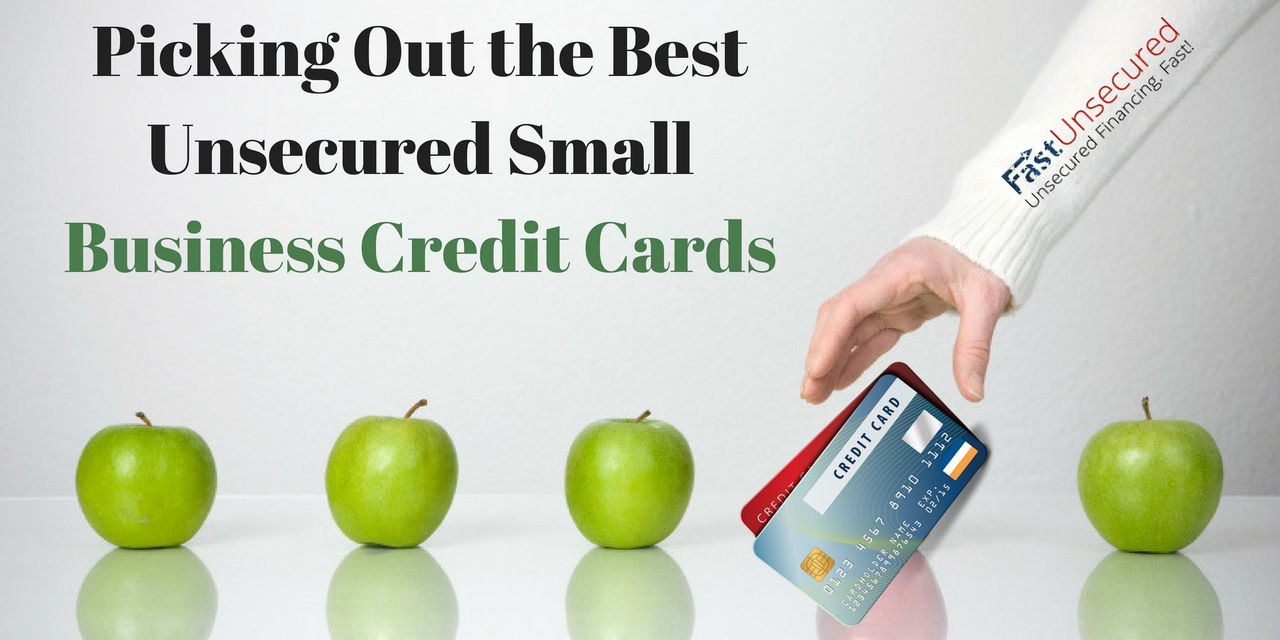 Credit card financing is one of the most convenient and popular ways to fund a business, but with so many options available it can be difficult to pick out the right one. All unsecured small business credit cards have different terms and features, so choosing the card that suits your needs requires some homework. In fact, getting locked into the wrong card can wreak havoc on your finances.
According to the Mercator Advisory Group, unsecured small business credit cards accounted for more than $490 million in corporate spending as of 2017. In 2015, there were 13.9 million unsecured credit cards in circulation. Do the math and you'll find that those figures amount to an average of about $35,000 in spending per small business. In fact, nearly 32% of all small business owners in America have applied for unsecured small business credit cards at least once since the inception of their venture.
Although traditional small business loan approval rates are much higher for companies with greater revenue streams and teams of employees, getting unsecured credit cards is both easier and more fitting. However, among the millions of start-ups with less than perfect credit scores and relatively short credit histories, only about 7% use credit card financing to support their business. The reason for such a surprising trend may be due to the fact that picking out the best unsecured small business credit cards can be very difficult.
5 Facts about Unsecured Small Business Credit Cards
The best unsecured credit card for any small business depends on the way in which that business operates. Out of the 67% of small business owners who currently use credit card financing, only about 24% use it as a primary source of spending. A survey conducted in 2017 showed that only a small percentage of cardholders use unsecured small business credit cards to meet general capital needs. Apparently, unsecured credit cards are used mostly for convenience, not for funding.
Why is credit card financing used in such a manner? The answer may be found in the following 5 facts about unsecured small business credit cards:
   1.   Unsecured credit cards represent about $50 billion in outstanding debt nationwide. However, that's less than 8% of the amount owed on consumer                  cards. Small business owners tend to use credit card financing to pay for general purpose needs only, thereby reducing the amount of debt incurred by         the  company.
   2.  Unsecured small business credit cards often feature specified rewards programs, bonuses, and other incentives that support the bottom line. Therefore,          most  small business owners use them very strategically as opposed to swiping every time there's something to be paid for.
   3.  Interest rates on unsecured small business credit cards tend to be below the national average when compared to consumer cards, with most requiring           as little as +/-12% APR. This incentive not only protects the business owner's personal credit and prevents them from dipping into their savings account,           it also helps them make on-time payments more regularly and build corporate credit faster.
  4.   While traditional loans and lines of credit are usually the first choices for small businesses seeking capital, 44% of new companies that are 2 years old or         less are still more likely to use unsecured credit card financing because of the relative ease with which they get approved combined with the  credit-                 boosting power of using a revolving line of credit.
  5.   The Federal Credit Card Act of 2009 excluded unsecured small business credit cards from the newly mandated protections that were afforded  to                     consumer cards. Therefore, many small business owners refuse to use credit card financing to pay for large purchases or risky company expenditures.
Although many unsecured small business credit cards offer an average total spending limit of just over $56,000, savvy companies only use credit card financing for things like travel, recurring bills, and petty spending. That habit not only protects the business from being susceptible to fraud and misuse, but it also builds corporate credit more quickly than any traditional bank loan ever could.
Tips for Picking Out the Best Unsecured Small Business Credit Cards
As a result of the exclusion from the Credit Card Act of 2009, many unsecured small business credit cards have higher fees than consumer cards. However, not all unsecured credit cards are created equally. By studying the terms and conditions, a small business owner can easily find the kind of credit card financing that fits the bill. All it takes is a little consideration of the following characteristics:
        1.  ANNUAL FEES
The fees paid annually for unsecured credit cards varies widely. Some offer zero annual fees but lack the rewards and bonuses small businesses thrive on, while others charge a menial annual fee (usually about $95 per year) but feature impressive cashback rewards incentives and other user bonuses. For instance, the Capital One Spark Miles for Business card charges an annual fee after the first year but also gives away 2 miles for every dollar spent plus offers a one-time bonus of 50,000 miles after you spend $4500 within the first three months.
       2.  INTEREST RATES
The best unsecured credit card for a small business will offer reasonable interest rates, albeit usually based on your corporate credit score. Most unsecured small business credit cards have an APR between 12% and 25%, but some may be lower or higher and almost all of them are variable. The Chase Ink Business Cash card features one of the lowest interest rates in the industry, with a 0% introductory rate for the first year and a variable APR that starts at 14.74% after that.
       3.   REWARDS AND BONUSES
Most unsecured small business credit cards offer amazing bonus programs for responsible cardholders. The CitiBusiness AAdvantage Platinum Select World Mastercard, for example, offers a generous 70,000 American Airlines bonus miles once you spend just $4000 within the first four months. It does require an annual fee, however, but only after the first year. There are no foreign transaction fees, and the APR is variable between 17% and 25% based on your credit scores.
Using Unsecured Small Business Credit Cards Wisely
Using credit card financing to support your small business is a wise and convenient move, but only if you act with due diligence. Sign up for email or text alerts if they're available and look for an issuer that offers employee cards at no extra charge. In addition, it would be wise to pick unsecured small business credit cards with some sort of fraud protection plan to keep your accounts safe while in the hands of others.
This article was written for Grand Teton Professionals for Fast Unsecured. For Credit Repair Solutions and Support, please contact us at 203-518-4923 or email us at Support@FastUnsecured.com. For Media Relations, please contact Misty.Burrell@GrandTetonProfessionals.com.
KWs: unsecured small business credit cards, best unsecured credit card, credit card financing, unsecured financing, unsecured credit cards