Brazil posts an 'open for business' sign on the Amazon rainforest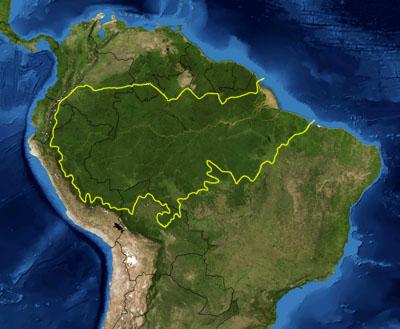 A big black storm-is-coming kind of cloud seems to be heading towards President Michel Temer's administration, due to his recent moves on the Amazon.
On Wednesday, the Brazilian government released a statement that abolishes the protection of an area of the Amazon rainforest known as Renca, an acronym that translates into National Reserve of Copper and Associates. The size of such territory adds up to 46,000 sq km (17,800 sq miles), and the announcement has created a storm of criticism from environmental protection groups and Amazon safeguarding advocates.
The statement specified that around 30% of such territory will be opened to mining operations, which has shocked environmentalists who forecast 'potentially irreversible damages' coming from the introduction of such activities in the area.
The opposition's Senator Randolfe Rodrigues classified this action as the "the biggest attack on the Amazon of the last 50 years" in a report published by O Globo, a well-known Brazilian newspaper.
Along with his voice, the Executive Director of WWF-Brazil also expressed his concerns about the measure, saying: "In addition to demographic exploitation, deforestation, loss of biodiversity and water resources, this could lead to an intensification of land conflicts and threats to indigenous peoples and traditional populations." This matches the recent comments of an Amazon Watch's spokesman who said: "The abolition of Renca will wreak havoc on the forest and indigenous communities in the interests of the small group of economically powerful groups who are keeping Temer in power."
So to sum up, it's not just any cloud. It might be a cover-the-windows kind of cloud, that includes potential domestic violence within the area combined with negative remarks that will definitely create public unrest.
To add weather-forecast kind of information to that, the Norwegian government has also voiced its concerns about a "worrying upward trend" in deforestation within the Amazon since 2015, backed by a threat to remove $1 billion of aid provided by the country to Brazil's Amazon fund, created to protect the territory from deforestation and other hazards.
The government has said that the abolition of the protected status comes as an initiative to attract foreign investment and boost the economy of the surrounding regions. More than 20 different corporations have expressed their excitement and intention to develop projects in an area that promises vast deposits of gold, copper, tantalum, and iron ore along with other minerals.
The question would be: is there an easier way to attract foreign interest without setting yourself as a hate-magnet for allowing the destruction of such a tremendously popular natural reserve? A question that probably many of the President's supporters are asking themselves right now.
The good news is that there ARE easier ways to get the funds that you and your company need. We want to tell you all about it at FastUnsecured.com.
We offer unsecured financing, FAST! 0% Intro APR for 12-months and up to $50K per lender. Stop by our website and chat with any of our outstanding representatives to ask all the questions you might be having. We are waiting for you!