3 Ways To Get Unsecured Funding Fast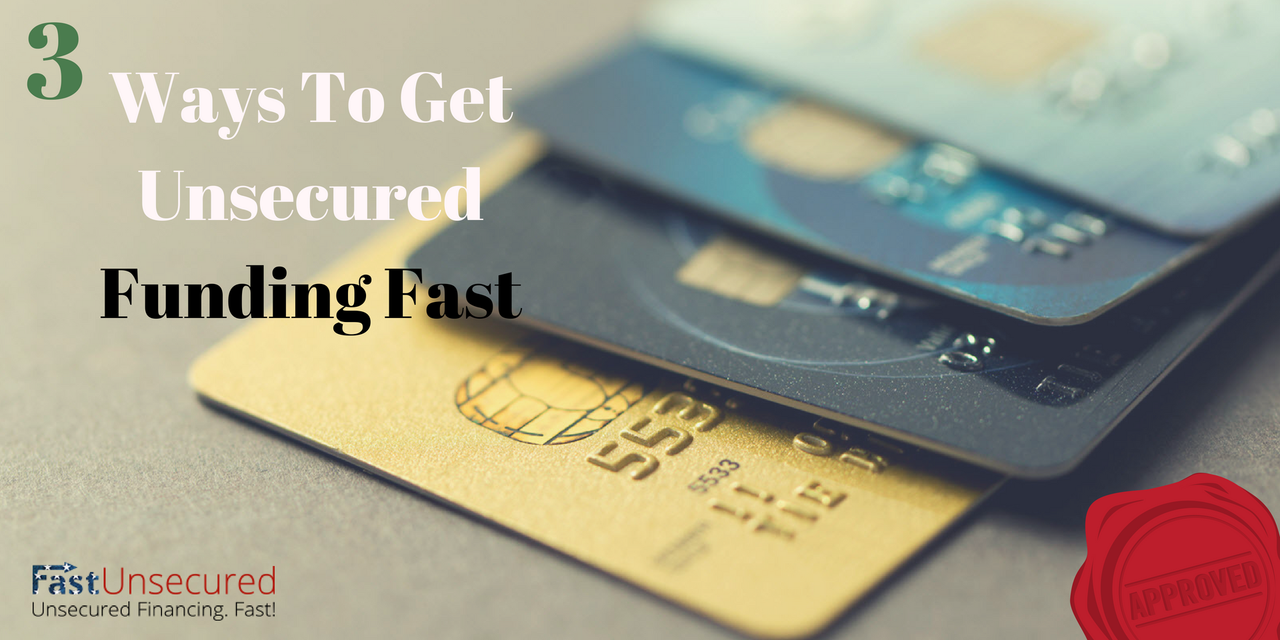 Finding the money you need can be difficult and stressful. Many times, people go without the things they want or require simply because they're unaware of the funding options available to them. In this competitive economy, there are two types of lenders: those who will approve your application despite your bad credit and those who won't approve your application without making you jump through hoops. Knowing the difference can make it easier to get financed with unsecured funding fast.
The Main Reasons Why People Need Unsecured Funding Fast
There is a wide variety of reasons why individuals and businesses require unsecured funding quickly, and it's not always because of some financial emergency. Personal loans come in handy for things like vacations, celebrations, home improvements, debt consolidation, and even shopping sprees. As for businesses, they typically need capital to pay for expansions, restock inventory, hire new employees, upgrade equipment, or expand into new territory. Whatever the reason, it's highly beneficial to locate a reliable source of funding, fast.
 Opportunities don't come knocking all the time, so fast financing is often a dream come true. There are two types of funding available: secured and unsecured. While secured loans require you to submit collateral, they usually offer lower interest rates and more flexible repayment terms. However, unsecured loans require no collateral and can have equally flexible terms. Put simply, it all depends on where you go to get the loan, and through whom you apply.
An unsecured loan has an attractive advantage over a secured line of credit. That expensive equipment, your business's inventory, and your private property remain protected despite getting adequate funding, sometimes for thousands of dollars. Lenders cannot simply seize your assets because you fail to repay the loan, so unsecured financing through loans are among the most popular financing option for individuals and businesses who have a lot to lose.
Perhaps the only drawback to using unsecured funding is the fact that the interest rates are often slightly higher than they are with secured financing methods. Additionally, some lenders might require you to sign a personal guarantee which gives the creditor permission to go after your assets if you neglect to pay your dues on time. Fortunately, there's a way to get collateral-free cash, quickly, without signing anything that puts your hard-earned property at risk. Read on to find out how.
3 Ways To Get Unsecured Funding Fast:
Unsecured funding options are typically harder to get but are rendered to the borrower quicker than secured loans. To take advantage, use the following tips and tricks to get yourself positioned to cop some serious cash fast.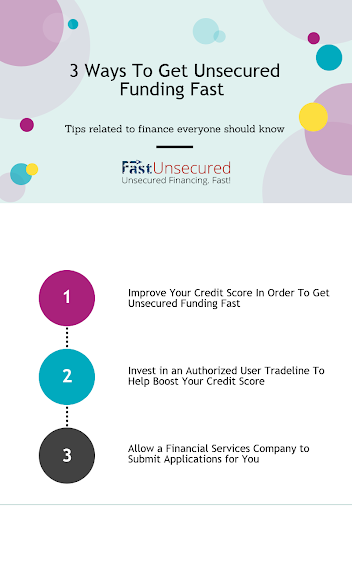 1. Improve Your Credit Score In Order To Get Unsecured Funding Fast :-
Since lenders typically offer unsecured personal loans and business funding to individuals and companies with impeccable credit, it's important to improve your scores before applying. Anything under 650 is considered poor credit, and a Paydex of less than 80 is seen as risky. Check your credit report often to ensure it keeps improving. Furthermore, you can always have your credit report analyzed by a professional to see if you qualify for unsecured financing right now. If not, improve your scores with the following techniques:
     1.  Have hard inquiries
     2.  Dispute and delete all negative items on your credit rep.
    3.  Check for identity theft.
    4.  Pay all your bills in full.
    5.  Never miss repayment deadlines.
    6.  Keep your credit utilization low.
    7.  Maintain a good mix of credit types.
    8.  Manage your debt-to-income ratio responsibly.
Fortunately, it's possible to get unsecured funding without having perfect credit, but you'll have to go through the right source.
2.

Invest In An Authorized User Tradeline To Help Boost Your Credit Score 

:-
While it may seem counterproductive, making a small investment into a seasoned tradeline can give you the fast boost you need to become approved for unsecured credit cards. Be sure the aged tradeline you buy features accounts that bode well in your favor, as there is no one-size-fits-all option. It's vital that you're very familiar with your current credit situation before spending any money on an aged tradeline, so have your profile examined by an expert prior to linking your account with another.
3.

Allow a Financial  Services Company To Submit Applications For You

:-
Although it's absolutely possible for you to seek and find your own unsecured loans fast, a reputable financial services company will always do it faster. Not only do they have industry knowledge that you likely do not, but they also know who's giving out funds and who isn't. Moreover, by allowing a financial expert to apply on your behalf, you cut down on the number of hard inquiries on your credit report and, as discussed early, thereby protect your high scores.
Final Thoughts:
It's easy to get business loans and unsecured credit cards when you have a proven strategy and team up with the right financial services professionals. Although it's possible to go it alone, it's not suggested because doing so can damage your credit and make it harder to get the money you need. Most of the time, you can get unsecured loans fast by simply submitting your name, address, and a statement of your annual income. Gone are the days of going without; it's time for you to get the money you need right away.
This article was written for Grand Teton Professionals for Fast Unsecured. For Credit Repair Solutions and Support, please CONTACT US at 203-518-4923 or EMAIL US at Support@FastUnsecured.com. For Media Relations, please CONTACT : Misty.Burrell@GrandTetonProfessionals.com.
KWs: Unsecured Funding, Unsecured Funding Fast, unsecured credit cards, unsecured funding, unsecured loans fast