3 Things You Need to Know about Using Unsecured Small Business Credit Cards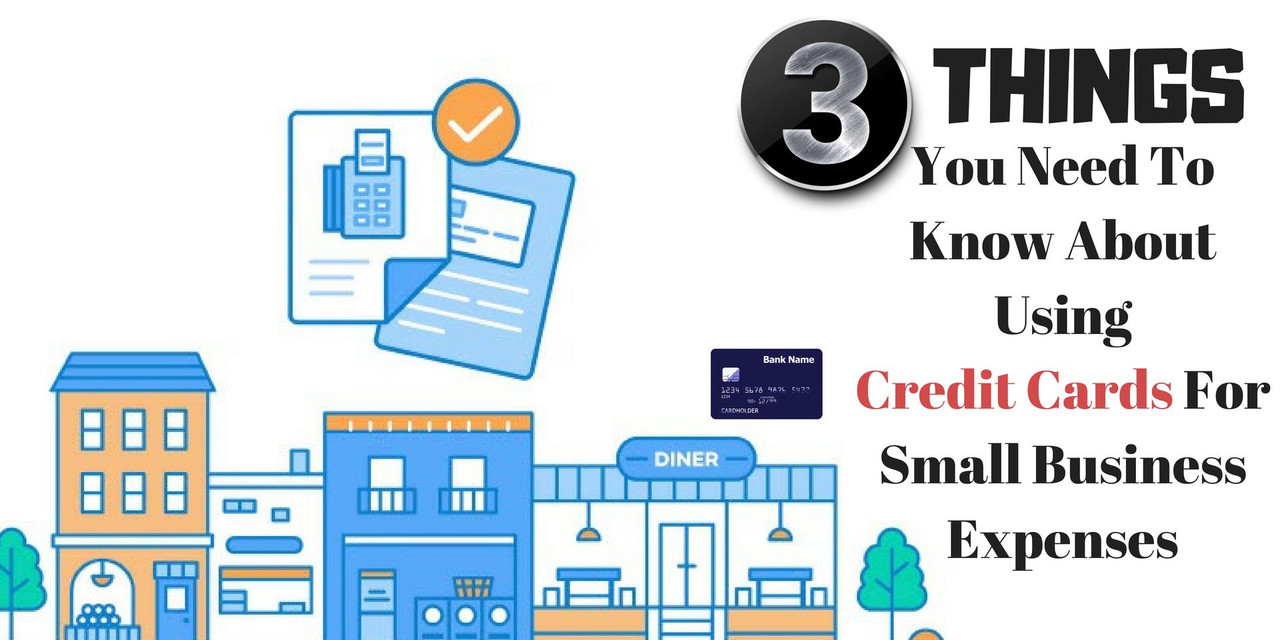 Small business owners often have a hard time obtaining the unsecured small business credit cards and business loans that they need for expansions, equipment, employees, and inventory. Fortunately, there are numerous small business financing options available to those who know where to find them and how to use them. To make the most of what's out there, small business owners usually need to manage their credit scores so that they appear attractive to lenders. However, getting small business loans when you have bad credit is possible as well.
Applying for a small business credit card may very well be your best bet. Paying for those mounting business expenses can be costly, which is probably why nearly 70% of all small business owners in the United States have at least one open credit card. In fact, there are more than 13 million small business credit cards currently in circulation, accounting for about $430 billion in corporate spending. In an economy that hosts so many small businesses, those figures are significant.
The reason for the prevalence of small business credit cards might be due to the fact that they offer a convenient way to quickly pay for short-term needs and thereby increase a company's purchasing power and corporate credit, or Paydex, score. With 37% of small businesses owners admitting that they use credit card funding specifically for that purpose, it's no wonder that so many corporate card accounts are opened. Like all sources of financing, a small business credit card can come in handy, but only if it is used and managed properly.
It's vital that you know the following 3 things about using your corporate credit cards for small business expenses: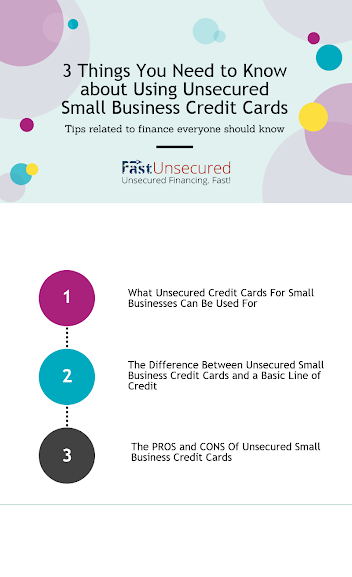 1. What Unsecured Credit Cards For Small Businesses Can Be Used For :
Unsecured small business credit cards for small businesses are different from other forms of financing for numerous reasons. Put simply, business credit cards can provide administrators with easy access to a revolving line of credit. While they usually have a set spending limit, most small business credit card issuers offer balance increases when the account holder acts with integrity.
Like a consumer credit card, small business credit card options have varying interest rates attached to them. Similarly, it's important to shop around before accepting an offer. Although small business owners can make purchases on whatever they need and even withdraw cash with an advance, the various fees and charges for those things will differ depending on the creditor and your Paydex score.
2. Difference Between Unsecured Small Business Credit Cards and a Basic Line of Credit :
Many unsecured small business credit cards are advertised as a viable alternative to a traditional line of credit, but there are several glaring differences that you need to know about.
A credit card serves as a revolving line of credit with a variable APR.

A loan or traditional line of credit often carries a fixed interest rate.
This means that you can borrow or charge goods and services up to your credit limit on the card and simply repay the monthly bill if/when you use the card. Alternatively, a fixed line of credit requires you to apply for a new loan once you've used up all your cash and repaid the initial loan.
Traditional lines of credit usually provide a larger amount of financing.

Small business credit card limits are typically smaller (atleast at first).
The amount of money you can access immediately varies based on the type of financing option you choose. As mentioned, the APR will differ as well. Traditional
small business loans are handy for making more substantial purchases such as equipment leasing and facility rentals,plus they usually cost less because the interest charged is significantly lower.
Unsecured small business credit cards require no collateral.

Traditional lines of credit require substantial collateral to qualify.
Unlike most fixed lines of credit, unsecured small business credit cards don't ask the cardholder to promise assets if the bill is not paid in full or on time. Unsecured business credit cards are not guaranteed by the borrower, which is why the interest rate is usually higher with that option. On the contrary, many unsecured business credit card issuers ask that the cardholder sign a personal guarantee – an agreement that makes the cardholder legally liable for repaying the money used.
3. The PROS and CONS Of Unsecured Small Business Credit Cards :
Aside from providing the necessary cash flow for your business, unsecured small business credit cards offer the following advantages:
i. Easier Qualification :-
     Unsecured small business credit cards are a lot easier to get for businesses with poor credit or relatively short credit histories. Bank loans are often difficult to qualify for without a long history of perfect payments.
ii. More Convenient :-
        Small business credit cards, especially the unsecured variety, provide quick access to funds without requiring asset-endangering collateral or additional loan applications.
iii.  Increased Financial Security :-
      Credit cards give business owners a much-needed financial cushion when accounts receivables are low, or sales take a nosedive.
iv. Simpler to Manage :-
     Many small business credit cards issuers provide online account access to the cardholder, making it easier to manage transactions and purchase supplies from vendors via an internet-based portal.
v. Incentives and Rewards :-
     Unlike traditional lines of credit, small business credit cards usually offer reward programs and cash-back incentives for certain purchases.
vi. Improved Book keeping Assistance :-
     In addition to timely account statements, most unsecured business credit cards come with record-keeping tools, year-end account summaries, and customizable spending limits for employee purchases. Many also offer identity theft and fraud protection as well.
In addition, the responsible use of small business credit cards can be a helpful tool to build corporate credit. When you pay the bill on time and in full, it gets reported promptly to the credit bureaus and builds your score more quickly than traditional loans do.
Conversely, small business credit cards can be hazardous for the following reasons:
i. More Expensive :-
     Small business credit cards usually have a higher interest rate –1-3% over prime – especially if they're unsecured or if your business credit rating isn't the best. Furthermore, irresponsible spending can cost you lots in late fees and penalties, plus there are usually annual fees associated with using small business credit cards.
ii. Legal Liability :-
     Because many small business credit cards require a personal-liability agreement, nonpayment could result in a negative mark on your credit report or an inability to borrow more money.
iii. Security Issues :-
     Unlike small business loans and traditional lines of credit, creditcards put you at risk for identity theft and fraud, especially if you regularly make purchases online.
iv. Decreased Protection :-
     Small business credit cards don't offer as much cardholder protection as consumer credit cards. For example, you won't be able to dispute billing errors or make merchandise returns as easily.
v. Fluctuating APRs :-
     Unlike fixed business loans, the card issuer can reset the APR of your account at any time and often without even telling you.
Final Verdict :
Although there are numerous drawbacks to utilizing unsecured small business credit cards, responsible use makes them a convenient source of fast funding.
For more information about your credit card financing options, be sure to read and understand the terms of use for each credit card you' re considering.
This article was written for Grand Teton Professionals for Fast Unsecured. For Credit Repair Solutions and Support, please Contact Us at 203-518-4923 or Email us at Support@FastUnsecured.com. For Media Relations, please Contact Misty.Burrell@GrandTetonProfessionals.com.
KWs: unsecured small business credit cards, credit cards for small business, unsecured credit cards,unsecured credit cards for small business, small business credit cards.